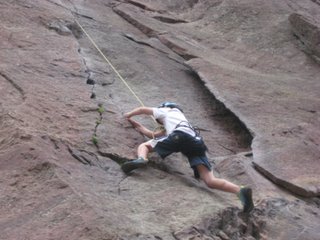 Last night Derek and I went back out to Eldorado Canyon to try and get on the Bastille again. Sheri came with us to hike/run while we climbed. The Bastille was wide open - no one on the entire rock. I led it with a Gri-Gri self-belay and that sucked. The rope doesn't feed, of course, by design. I need to work on a better method that doesn't involve buying a giant Silent Partner for $220. I think I'm better off soloing this pitch. Maybe I'll do it with a couple of tied knots...
I clipped the rope through the snaplinks at the top and rappelled off. I know that toproping off of these snap-links is frowned upon, due to anchor wear, but I figured one lap by a 75-pound kid wasn't going to hurt anything.
Derek climbed up through the crux, which is stepping left and then going up the first 5-6 feet with some difficulty, but cleanly. Above there he stalled on the more pure hand-jamming section. He got frustrated and eventually came down. He decided to rest a bit and then give it another go. The second try ended a bit lower than the first try. He just didn't have the energy today. He had already down a bike ride and played a match in the local open tennis tournament. I think he was a bit tired.
We pulled the rope and headed for home. I hope Derek isn't too discouraged. I'll guess we'll soon, as we've now climbed three days in a row.
More photos here
.