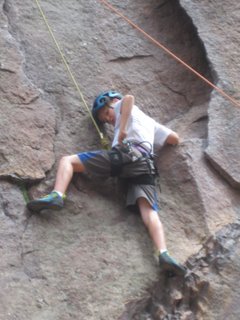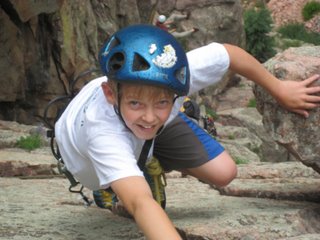 My son Derek and I are getting back into climbing together. When he was younger we did all the numbered Flatirons (1-5), the Front Porch, Royal Arch, and the Matron. I want to climb the Maiden and Seal Rock with him this year, but we're also climbing in Eldorado Canyon. Today we went and climbed Breezy (5.5). We did it as two pitches. There was a party on it when we got they. Two really nice guys from Minnesota. They were pretty slow, so I asked if I could climb up to the first ledge and they were fine with it. I scampered, unbelayed, up to the first ledge while the leader was finishing up the second pitch - they were doing the route as one pitch.
Derek followed easily and I then soloed up the second pitch to the walk-off ledge. Derek did great on this, the crux, pitch. I didn't expect him to have any trouble and he didn't. He just worked out the moves stemming between two cracks. He's still learning crack climbing.
At the top I saw a woman that know: Rhonda. She is a friend of Tom's that I met in the gym this past winter. We followed them down the trail back to the base. They were super slow walking down this trail and they never thought to ask us if we'd like to go by. This is bizarre to me. I guess they are just in their own world and not thinking about anyone but themselves. We weren't in a big hurry, but the pace was like this: take a step, wait 5 seconds, take another step. It wasn't long to get down and I found it more humorous than annoying, but I did find it annoying.
Derek and I grabbed our shoes and headed for Calypso, which was taken up by a party of three and they were going to toprope the first pitch, so we moved on to the Bastille Crack. Here I found Pemba Sherpa, a friend of mine, and Marika, who I didn't know, climbing up the Bastille Crack to the upper portion of Wide Country, avoiding the first 2/3's of the pitch. I didn't know it was Pemba up there at the time, or I would have asked to climb up over their rope. Pemba was having a tough time placing gear on the 5.10 section above and apparently he was setting a toprope anchor so that he could try Wide Country's lower part. Eventually, Pemba lowered to the ground, I recognized him and got Marika to belay me up the first pitch of the Bastille Crack.
I zipped up the pitch with two pieces of gear (twice my usual, but I didn't want to freak out Marika), clipped the anchor and lowered to the ground. I then belayed Derek up the pitch and he did great! He onsighted the pitch, though it took him quite awhile to work out the crux section. Like I said, cracks are still a bit baffling to him. He called it his favorite pitch, so far, in Eldo and he wants to continue to work on it. We might have to do the entire route next time, but the problem with that is belaying. He isn't comfortable belaying me and with good reason. The chances of me falling on that route are very, very low, but I probably shouldn't be soloing it either. We'll see.
I self-belayed myself up the pitch to clean the draws at the top and then did a biner-brake rappel since I only had a Gri-Gri with me. It worked great.
Sheri and Danny came with us and took some photos, hiked around, and read their books.
More photos
here
.