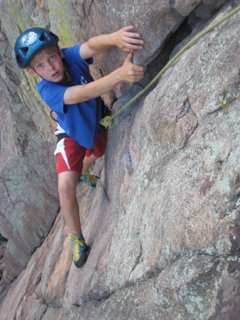 Today was a great day. During lunch I went over and watched my son win his first round match in the MOJO tournament by a score of 5-7, 6-2, and 10-6 in the tiebreaker (they don't play a third set). Then he came into work with me because Danny, at 14, now works at Tendril! He's an intern programming for us. Cool. After work, Danny and I drove home. Here I picked up Derek (age 11) and drove to Eldorado Canyon intent on climbing the Bastille Crack for the second day in a row. Of course, it was queued up with two amazingly slow parties (as we'd observe later), so we immediately changed plans to Calypso.
We hiked up to the start where a woman was just starting to second the first pitch. I called up to the leader and found that they were rappelling after the first pitch. Great. We'd have the route to ourselves and not have to wait.
We geared up and I soloed the 5.6 pitch, trailing the rope behind me. I had never soloed Calypso before, but Derek is not ready to catch a leader fall with our weight differential. But I wasn't going to fall, so soloing was fine. We'll work on the belaying throughout the summer, especially as we start doing harder climbs.
I arrived at the belay just after the woman arrived. The guy sees my rope hanging unemcumbered and says, "You're first piece over here is going to be bomber!" I clipped into the anchors with them - they were really friendly and I had already asked if it was okay. Derek scampered up the pitch easily. Arriving just after the woman started to rappel. We waited for them to clear the station and pull the rope, as I didn't want Derek bothered by that. I then soloed the steep second pitch, which I have only probably climbed once or twice before and the last time many, many years ago. I went slow and solid over the first twenty feet, which is steep and a bit tricky. I wondered if Derek would be okay and I placed a piece with a long sling on it so that he'd have a handhold if he needed it.
I needn't have worried. For while Derek did think that section was the crux of the climb, he made steady progress up it and made sure not to pull on the sling. He's learning about liebacking and jamming and smearing and having a great time.
The third pitch was an easy traverse across the Wind Tower to the walk-off ledge. We unroped, coiled, and hiked down and back to the car. What a day...
But the best part about it (okay, maybe Danny's win was the best part), was when Derek and I were walking back to the car and I was telling him that the next time we try for the Bastille if it was crowded we'd climb Tigger next and then we'd climb this other climb. I finish talking and after a short pause Derek says, "Want to try again tomorrow?" There are no sweeter words than my son asking me if I want to go climbing with him tomorrow. It's like at the end of the work day when Danny messaged me, "Want to go work on my serve tonight?" When sons ask questions like that of their dad, there is no one answer: YES!

Photos here