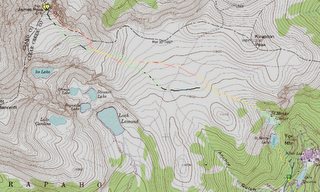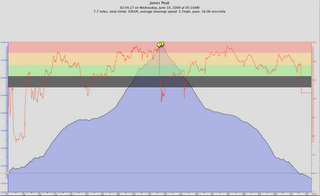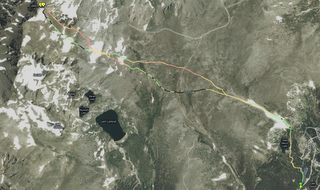 Mark Oveson and I had planned a before-work ascent of Mt. Bierstadt this morning, but were dismayed to find the road to Guanella Pass closed. A lighted, flashing sign with a long message about the closure dates and times told us it was closed from 9 p.m. to 6 a.m. and from 1 p.m. to 3 p.m Monday through Thursday. Bummer. We drove by this and up to where the road was barricaded (only a half mile up) before bailing.
Plan B was to go climb James Peak from the St. Mary's Glacier. Just under 2 hours roundtrip. Lots of perfectly firm snow for the ascent/descent. It snowed on us for the upper 20 minutes, but we had no wind and really nice conditions, though a bit foggy on top. It was fun. 7.7 miles, 3000 vertical feet up to 13,300 feet or so. Back in Boulder by 8:20 a.m.
The Super Star Couloir up there looks to be in great condition... I might have to dash back here soon.